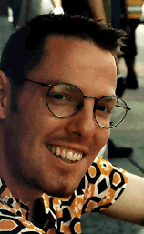 Hi boys and girls, I'm Sparky, known to my parents, relatives, co-workers, and many of my pals as Dan Rhatigan. (To my dismay, many of the kinfolk still refer to me as "Danny," the diminutive of my name that I seem destined never to shake.) I'm the egomaniac behind Rumpus Room, and your host for the evening. I am a professional graphic design nerd. I wear much nicer glasses now than the ones you see before you.
Born youngest of six (Irish Catholic — go figure) 1970 in Staten Island, New York, to Betty and George. Had overactive imagination as a child (was convinced for a long time that I really was a superhero, and also set up my room so my Star Wars figures could move around more easily while I slept). Went to St. Sylvester, Regis High School, and Boston University and turned into a real smart alec. Comfortably settling into a new pad in scenic Fort Greene (near Spike's Joint, for those in the know). Ardent desire to leave the country before Congress really fucks things up here. Gay (and lonely as hell, but that's another problem altogether), and convinced I came that way — no big deal for me. Listen to inordinate amounts of Ella Fitzgerald, Man or Astro-Man?, David Byrne, Elvis Costello, Brave Combo, Beastie Boys, Squirrel Nut Zippers, and mambo. I've got the funk, and I don't mean I need to take a shower. Have always wanted to tap dance and play the accordion. Never
driven a car in my life.
For a sense of perspective on my life and work, check out the
Rumpus Room Manifesto
. A lot of my thinking about my life and my goals has changed since that was written a few years back, but the immediacy of it still tells a lot about how I've gotten to where I am today. That is to
say, I don't feel a lot of the frustrations I mentioned quite as accutely as I once did (and I'm not as insufferably whiny), but they set the stage for a lot of growing that I have done since then. But enough of that wishy-washy "feelings" claptrap.
NOTE: I have selfishly refrained from including links to bands and things that interest me, since I'm trying to hold your attention right here for now.